We Need More Laboratories That Can Test for Coronavirus
Currently, it is still difficult for some people in the United States to get a test to see if they have contracted COVID-19. Our Country needs existing laboratories to add this test to their services so we can meet the demand for testing. If you've been interested in starting up a testing laboratory, now is the time to do so. You have a unique opportunity to help the Country and we want to help you start testing for COVID-19 quickly and accurately.
Add Coronavirus Testing to Your Lab
Do you already have a testing lab established and running smoothly? Our Covid-19 Assay is available through the DTPM store along with one of the largest selections of Reagents available online. Contact our sales department today to get customized pricing for your laboratory.
Partner with DTPM to Start Your Own Lab
Do you not yet have an established lab to start offering testing for Covid-19? We can help. DTPM has been offering Turnkey Laboratory Solutions for over 15 years and has the experience you need to quickly get your lab established and running smoothly.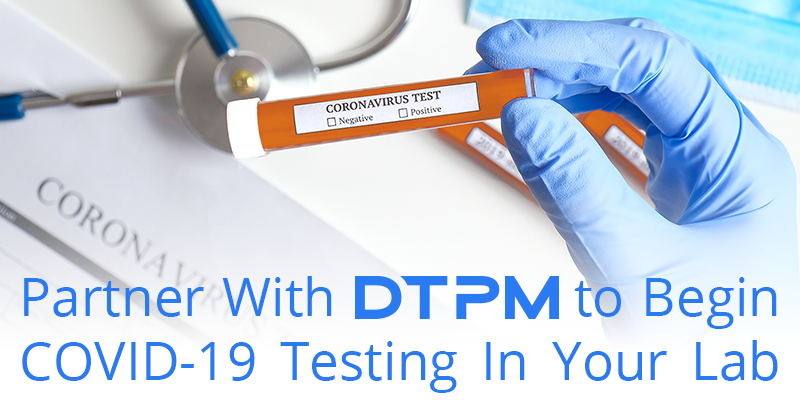 Work with us today to start testing for Coronavirus in your own lab
For over 15 years, DTPM has provided superior laboratory management services to lab owners across the country. We partner with reference labs, physician offices, drug courts, treatment centers, and more. Our mission is to support your Laboratory from start to finish. We specialize in laboratory setup, staffing, procedures, ongoing supply and management, productivity, cost-efficiency, and regulatory compliance. Let us use our experience to help you get your lab testing for COVID-19, or all the strains of Coronavirus, today.