What is Antibiotic Stewardship?
Antibiotic stewardship, sometimes referred to as antimicrobial stewardship, refers to the efforts made in doctor's offices, hospitals, long-term care facilities, and other healthcare facilities to embrace a mentality of only prescribing antibiotics when necessary. This is observed by prescribing the right amount of antibiotics at the right time for the right duration of time.
Inappropriate prescriptions of antibiotics can lead to problems for healthcare workers and patients alike, making initiatives, called Antibiotic Stewardship Programs (ASPs), a necessity in both small and large-scale healthcare operations.
The Centers for Disease Control and Prevention (CDC) outlines the benefits to ASPs as the following:
Improves individual patient outcomes
Decreases antibiotic resistance
Cuts healthcare costs
Reduces Clostridium difficileinfections
In 2014, the CDC began rolling out specific guidelines and recommendations for healthcare facilities on the use of antibiotics. They created their guides as a way to educate physicians and patients alike on antibiotic stewardship. It's unclear exactly when these programs began, but as of 2018 nearly 85% of hospitals nationwide began meeting the CDC's guidelines.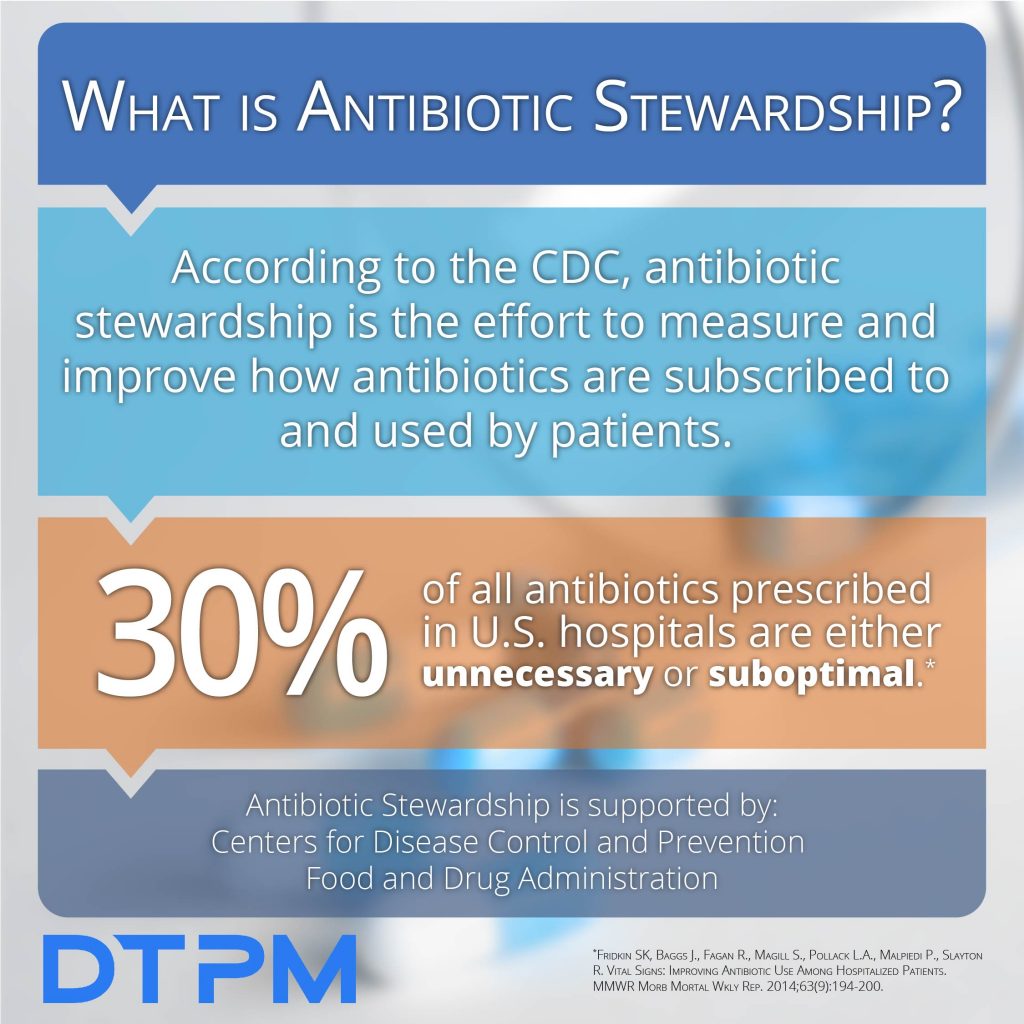 Facts About Antibiotic Stewardship
Thirty to fifty percent of antibiotic use in hospitals is unnecessary or inappropriate.
Antibiotics are a shared and scarce
Antibiotic overuse contributes to the growing problem of Clostridium difficile infections (often referred to as C.Diff). C. Diff affects roughly half a million people in the US each year, according to MayoClinic.
Improving antibiotic use reduces healthcare costs and improves patient outcomes, according to the CDC
A patient misusing antibiotics may have a harder time getting rid of an infection, may become sick with an antibiotic-resistant infection that can't be easily treated, or end up with mild to severe antibiotic side effects.
3 Ways to Improve Stewardship
Antibiotic Stewardship Programs have been proven to improve the healthcare system for both patients and healthcare workers, but only works if everyone is working together to employ effective ASPs. Here are three types of programs suggested by the CDC: broad interventions, pharmacy-driven interventions, and specific interventions for infections and syndromes.
Broad Interventions: These involve getting authorization before prescribing certain antibiotics, performing regular audits on cases that involve antibiotic prescriptions, and re-evaluating antibiotic prescriptions when diagnostics information is being collected.
Pharmacy-Driven Interventions: This is done at the pharmacy level by adjusting the dosage amount of antibiotics, and looking out for duplicate therapies and drug interactions. This also includes assisting with transitions from IV antibiotics to oral antibiotics.
Infection/Syndrome Specific Interventions: These are clear instructions for prescribers on using antibiotics for infections that are known for overuse in the past. This includes infections like UTIs, skin and soft tissue infections, MRSA infections, Clostridium difficile infections, community-acquired pneumonia, and bloodstream infections. These infections need to be proven by a culture.
---
Get more information like this from DTPM each month!