Laboratories have had difficulties finding the equipment needed to run successfully, including Nasopharyngeal and Oropharyngeal swabs to collect samples. DTPM is proud to announce that we have the ability to fulfill your orders of MTM and VTM swabs in unlimited quantities!
Our sales team will work with you to find the bulk pricing option that best fits your lab's needs so call us today at 256-845-1261 to get started!
---
What are MTM Swabs?
Available as both Nasopharyngeal and Oropharyngeal swabs, MTM swabs are optimized for molecular testing. In fact, MTM stands for Molecular Transport Media.
What are the benefits of MTM Swabs?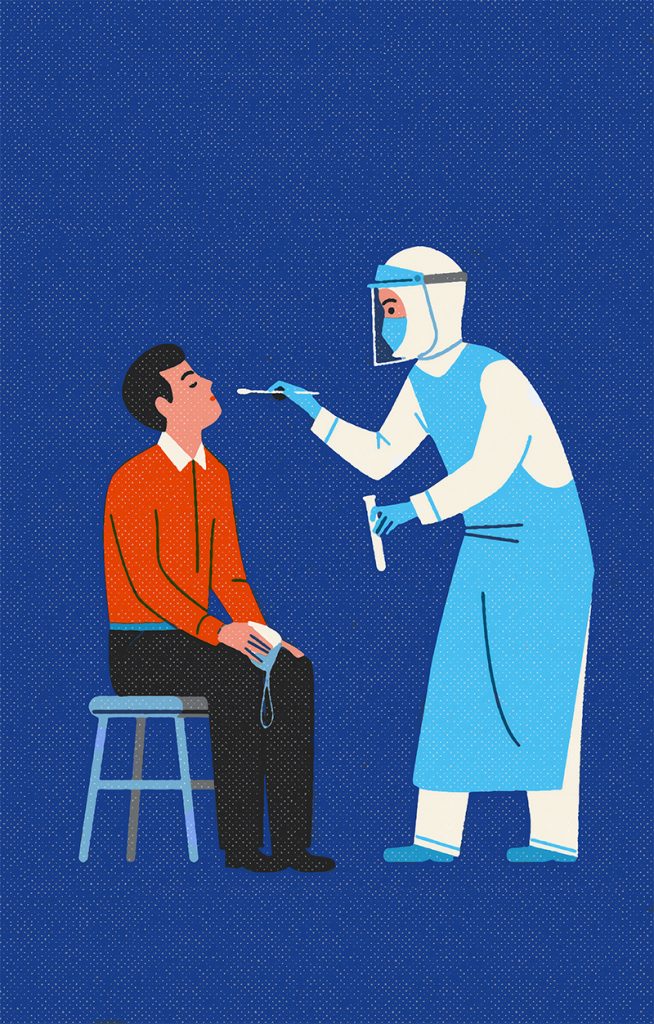 Sample contamination and degradation are concerns for all testing labs. MTM Swabs utilize a unique formula of transport solution that quickly renders infectious pathogens inactive. This advancement allows for safe collection of even the most contagious of viral samples.
In addition to safely inactivating pathogenic samples, MTM Swabs also preserve and stabilize the released RNA and DNA of the collected sample. This allows for longer specimen stability than any other swab on the market, while removing the costs associated with transporting media in accordance to cold chain standards.
Uniquely suited for COVID-19 Testing.
Because MTM Swabs deactivate samples so rapidly, they are the safest collection method for highly contagious diseases such as the COVID-19 strain of Coronavirus. Test samples immedietely upon arrival to the lab without need for containment or following cold chain transport protocols.
DTPM's COVID-19 Assay works with both Nasopharyngeal and Oropharyngeal MTM swabs. Speak with our sales team today to discuss how we can supply your lab with the supplies it needs to succeed.
Unlimited MTM Swabs available now!
Discounts offered on bulk orders – call 256-845-1261!
---
What are VTM Swabs?
Nasopharyngeal swabs used to collect viral sample media which are then placed in a preservation solution for storage and transportation. The sample must be kept temperature stable and contained to prevent accidental transmission of the live pathogen.
What are the benefits of VTM Swabs?
The flocked nylon tip of the VTM swab provides excellent sample collection, trapping the sample in the fiber matrix at the end of the swab.
The preservation solution maintains virus integrity and prolongs the positive rate of PCR detection within the sample. Components in the solution include antibiotics, amino acids, BSA, HEPES, glycerin, and more. The solution is an upgrade from the traditional Hank's solution.
Specifically used for COVID-19 testing.
DTPM has VTM Swabs available for testing COVID-19. Work with our sales team to get your lab set up with our COVID-19 Assay and the swabs you need by calling 256-845-1261 or visiting our contact page.
Unlimited VTM Swabs available now!
Discounts offered on bulk orders – call 256-845-1261!
---
Which swab should I choose?
Now that you know a bit about each swab, you may still be confused on which to choose for your sample collecting needs. Here is a comparison chart to better help you decide:
| | | |
| --- | --- | --- |
| | MTM Swabs | VTM Swabs |
| Do these swabs work with the DTPM COVID-19 Assay? | Yes! | Yes! |
| Is cold chain storage & transportation required? | No | Yes |
| Is the sample still active? | No, testing can take place outside of containment. | Yes, the virus is still a biohazard and testing must occur in controlled containment. |
| How is the integrity of the sample impacted? | Enzymes and nucleates are destroyed while RNA and DNA is kept preserved. | Enzymes and nucleates are not destroyed, which may damage RNA and DNA. |
| Does the swab inhibit PCR? | No | Yes |
| What is the shelf life? | 24 months | Less than 6 months |
If you are still unsure, our team of laboratory consultants are just a phone call away! With over 30 years of collective experience setting up laboratories, our staff will be sure to provide the guidance and answers you need. Call us at 256-845-1261 today!
Which swab should I use with the DTPM COVID-19 Assay?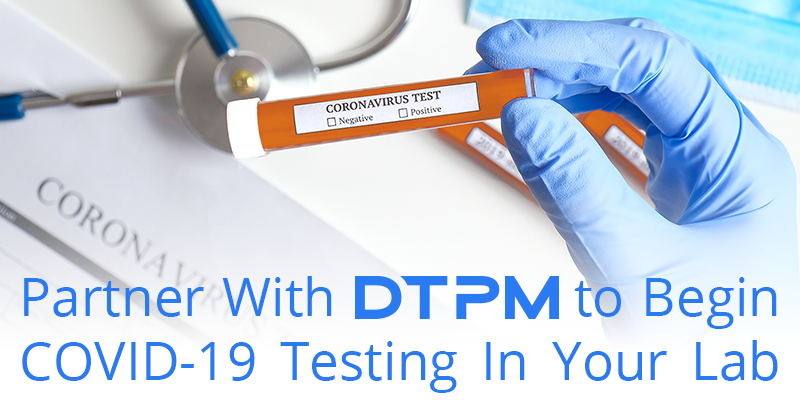 We recommend using high quality MTM swabs, or VTM swabs for the collection of possible COVID-19 Samples. Our COVID-19 Assay allows for naso or intranasal collection, so you don't have to go so deep to collect the sample!
Speak with our sales team today to learn how you can start reliably testing for Coronavirus in your laboratory!
Call us at 256-845-1261 or visit our Contact page.
---
Do you have any other supplies?
Yes! In addition to MTM and VTM Swabs, we also carry a ESwabs in limited quantities. The DTPM store also carries one of the largest online selections of laboratory equipment and supplies!