DTPM provides instrumentation for small, medium and large laboratories.
INDIKO Overview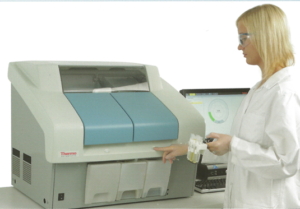 The INDIKO and INDIKO PLUS is uniquely designed to service the small end laboratory.  This new instrument is exciting in the drug testing industry because it provides the speed and methodology of a large instrument in a small package.
---
The MGC 240 is an excellent midsize instrument that is not much larger than the INDIKO but over twice as fast at 240 test per hour.  The MGC 240 is an excellent option for any of our programs that need an instrument of this speed.  It is a proven workhourse of our industry.
---
The Olympus line of instruments from the AU400 up to the AU2700 provides the speed and ability to load multiple tests that work for the largest of laboratories in the industry.